Ditch Witch Pencil Popper (C&R) 7"...3.2 Oz. +- SOLD OUT
Ditch Witch Pencil Popper (C&R) 7"...3.2 Oz. +- SOLD OUT
View Images
Price: $70.00
Availability: This product is out of stock and not available for ordering at this time; please come back or continue shopping.
PURCHASES ARE LIMITED TO
ONE PLUG ONLY PER STYLE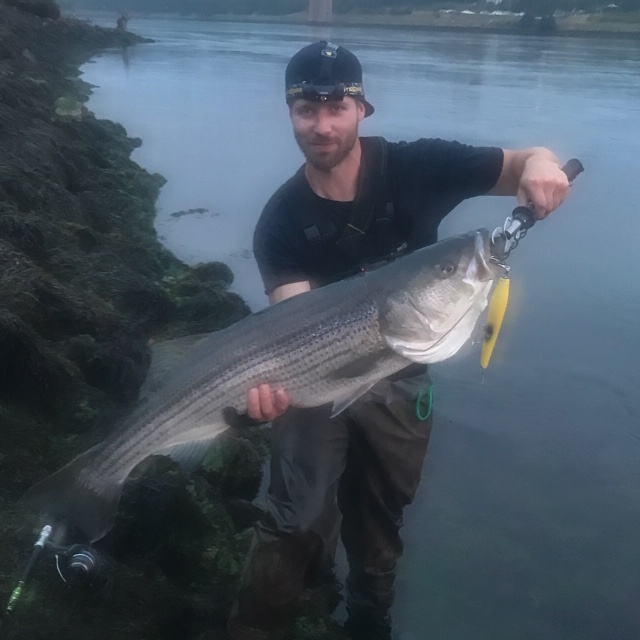 Dan Evan
---
READERS REVIEW IN THE MAY 2013 ISSUE OF
On The Water Magazine
Mike's Custom Plugs Ditch Witch
"Every now and then a plug comes along that is not just good-looking but is easy to cast, has great action and also catches fish. Mike at Mike's Custom Plugs has found this balance in the Ditch Witch. This plug made me look like I knew what I was doing because I was able to cast it farther than any plug in the past. Once it splashed down, it took minimal effort to work the Ditch Witch to produce fish-enticing action. The plug has a flat belly that allows it to easily obtain the "windshield wiper" motion of a pencil popper. While a lot of guys will only use a topwater plug when fish are
showing on the surface, I found the Ditch Witch produced even when blind-casting. The plug is hand-turned out of Alaskan Yellow Cedar, through-wired, and equipped with a VMC 4/0 belly treble with Wolverine triple-wrap split ring on the belly and a matching tail flag in order to promote catch and release.
Ditch Witch Pencil Popper (C&R) 7".... 3.2 oz.+-
A well balanced, easy to walk, slow sinking pencil that comes to the surface quickly on retrieve. This plug is weighted for maximum casting distance and is built to be fished anywhere there is a strong fast moving current. New for 2022: All Ditch Witch Pencils will be shipped with (1) 4/0 VMC belly treble and a matching tail flag in keeping with my strong belief of Catch and Release!