8.5" Commander 3.5 oz. +- Sorry, temporarily out of stock
8.5" Commander 3.5 oz. +- Sorry, temporarily out of stock
View Images
Price: $45.99
Availability: This product is sold out and not available for ordering at this time; please come back or continue shopping.
PURCHASES ARE LIMITED TO ONE PLUG ONLY
In Surfcasters Journal ~ Issue 55 May 2019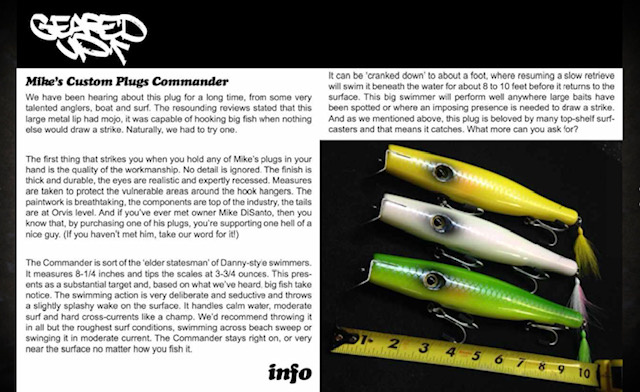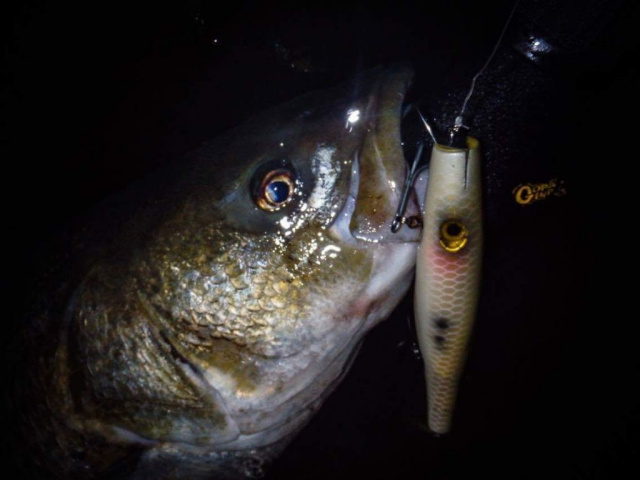 8-1/4" Commander ...... 3.5 oz. +-
Named after a famous Rhode Island surf caster, ("Commander" Peter Kernicki) this is one of our our largest swimmers...almost a foot long including the teaser tail. This plug casts surprising well for a plug its'size and does not "helicopter" (like many other large Danny style plugs). It floats high and has a seductive side to side tail-kick.This plug will dig to about 12" and can also be used for slow trolling. This plug is truly a "trophy" fish plug. Comes rigged with VMC 4/0 belly trebles (that don't tangle), hung on #6 Wolverine triple splits and topped off with a custom tied matching teaser tail. The "go to" plug for myself and many others. Definitely not for the faint of heart...Strikes are "heart-stopping"! If you are looking for a new personal best, look no further. Our #1 seller for 16 years and counting!
"Striper Ted"Mackenzie